Our Services
Serving Chittenango, Madison County
At Lentz Property Services in Chittenango, NY, we provide professional resurfacing services. Call 315-860-1599 to hear how we can help or schedule an appointment with us.

* Bathroom Resurfacing Services
* Kitchen Countertop Resurfacing Services
* Bathroom Countertop Resurfacing Services
* Bathtub Resurfacing Services
* Wall Tile Resurfacing Services
* Floor Tile Resurfacing Services
* Bathtub Repair Services
* Shower Repair Services
* Bathtub Reglazing
* Sink Reglazing
* Ceramic Tile Resurfacing
About Us
Bathroom Resurfacing Chittenango NY
Lentz Property Services specializes in providing bathroom resurfacing services for owners of residential and commercial properties in Chittenango, NY and the surrounding areas. We'll bring over 8 years of combined experience into your project. We source our products from trusted outlets and guarantee quality. We know how to combine our skills and expertise with state of art tools and equipment to provide unmatched services. For us, no job can be too hard, too big, or small big. We are licensed and insured for your peace of mind.

We provide many services include bathroom resurfacing, kitchen countertop resurfacing, bathroom countertop resurfacing, bathtub resurfacing, wall tile resurfacing, floor tile resurfacing, bathtub repair, and shower repair. We're a family owned and operated business that strives to provide the highest quality work. We're knowledgeable and willing to provide information to customers that can help them make the best decisions regarding their project. We're professional and customer satisfaction is our number one priority. We offer free estimates and competitive pricing.

Call Lentz Property Services in Chittenango, NY now to talk about your resurfacing service needs with our experts, to request a free estimate, to arrange a consultation with us as well as to request our services.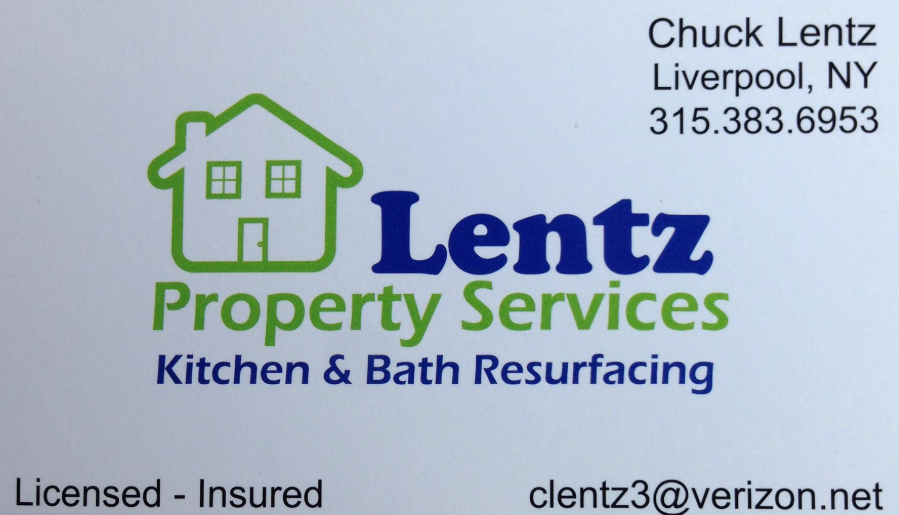 Bathroom Resurfacing Chittenango NY
---
Business Hours
Mon
9:00 AM - 5:00 PM
Tue
9:00 AM - 5:00 PM
Wed
9:00 AM - 5:00 PM
Thu
9:00 AM - 5:00 PM
Fri
9:00 AM - 5:00 PM
Sat
Closed
Sun
Closed
Payment Methods
Mastercard, VISA, Discover, Cash, American Express, Checking Account